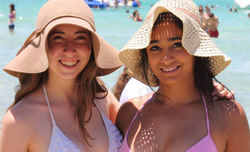 There is such a thing as a lucky horseshoe. On Magnetic Island it's called Horseshoe Bay. It's the best, the ideal location and the coolest place to be for Schoolies week. And when you book into the Sails of Horseshoe Resort you are smack bang in the middle of the best entertainment, eateries and shopping on the island.

It's a real pain if you have to hike everywhere just to be part of the action. Remember once you're registered as an official participant at Schoolies, you get that magic wristband which is your ticket to anything and everything you fancy on the Schoolies schedule.
Location, location, location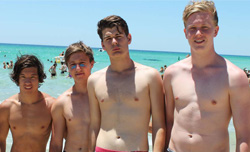 Imagine being stuck in accommodation overrun with families and little kids or seniors with hearing aids wanting everyone in bed and asleep by sundown. That could happen in the wrong location. Ensure you pick the right place – stay at the official Schoolies resort – no need to worry about old people asking you to keep quiet, or worry about Toolies at your hotel.
The Official Schoolies Resort is for Schoolies only – and that's the way it should be.
There is no curfew or lock-outs to worry about when you stay for Schoolies Week. Get yourself to one of the best locations in Australia.
Magnetic Island has everything including privacy. It's a short ferry ride from Townsville and the beaches, wildlife, shopping and cafes are fabulous. In fact it's the ideal spot for a Schoolies week of parties, fun, sun and relaxation.
Did we mention the weather?
Magnetic Island has some 320 days of sunshine a year. Schoolies Central have been running package deals for Schoolies to the Island for years. They know the safest and sunniest spots. They know the best hotels for Schoolies with staff on hand who know where the parties are and when.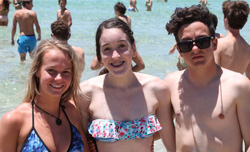 Like so many locations, Magnetic Island is a hot ticket for Schoolies. You can never book too far ahead. Tell your friends, line up your friends and head for the sunshine, the wildlife (the birds and possums are particularly attractive) and the high life in sunny Queensland.
All employees at Schoolies Central are Fully Accredited and Qualified.
Schoolies at Magnetic Island: Details and Packages now available