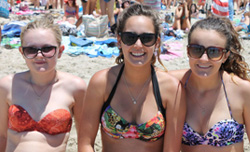 Every week is a great week at Phillip Island. The Schoolies week venue is a relaxed two-hour drive from Melbourne and the natural surrounds are superb. What do you feel like doing this morning, this afternoon and tonight?
Great shopping
Great swimming and surfing
Great sunsets
Great Schoolies parties (wristband given for access)
Socialise on the rooftop balcony of your superb Schoolies accommodation
Great exploring
Great alfresco dining
Planning is everything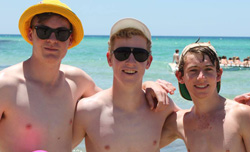 There is an official Schoolies hotel. Okay but why stay there? Because it's great accommodation, it's safe, it has assistants in-house, plus the awesome Red Frogs for further assistance in the peak period. You'll get all the information and event news right there in your own hotel. You'll know what's happening.
The official Schoolies hotel at Phillip Island is at "The Island Accommodation". Many Schoolies miss out on the fun since they don't realise that you need be booked into this particular hotel to be part of the Schoolies action. Staying at The Island Accommodation is the only way to get the Official Schoolies Wristband for Schoolies at Phillip Island – ensure you don't make the mistake of overlooking this fact – otherwise Schoolies won't feel anything like Schoolies week should!
Guarantees are important in life and especially so in Schoolies week. You want a guarantee of your accommodation, on the price you'll pay, on what you'll get for the fee and a guarantee that everything promised is delivered.
Step up Schoolies Central
The beauty of the events and deal on offer from the leading Schoolies experts is that experience counts. Been there, done that applies time and again for Schoolies Central.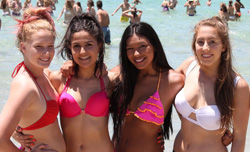 Now you're likely to have questions. Who doesn't? Well questions are fine but what about prompt and clear answers, what about factual, up-front answers? That's where Schoolies Central have got you covered. You can go online, check out their informative web sites. You can email questions or call 1300 49 59 69. You do know they never sleep at Schoolies Central? You do know they're on the job 24/7?
Safety and fun
You want to party. You want to let your hair down and celebrate. But you want to feel and be safe. That's the deal on offer at Phillip Island Schoolies. Places are limited. Make yourself lucky and book the Island today.
All employees at Schoolies Central are Fully Accredited and Qualified.
Schoolies at Phillip Island: Details and Packages now available