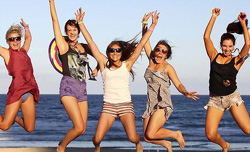 It's described as the best Schoolies location within 700km. It's only an hour or so from Sydney, it has two of the best beaches on the coast and with brilliant Schoolies accommodation and fun-filled parties and events, the Terrigal Schoolies has quickly gained a lot of popularity.
Those who hesitate will miss out. Because of its handy location, superb sandy surf beaches and outstanding events especially for Schoolies, Terrigal Schoolies sells out fast. It's never too late to be early. Think how cool and relaxed you'll feel this winter knowing your room is safely booked ready for your late November or early December arrival. You have your ticket to Terrigal Schoolies.
Is it safe?
The number one danger for anyone at Schoolies is you. Keep yourself safe by following all the commonsense rules. It's about being responsible. And what a great place to take a stand.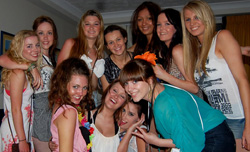 You've cut your school ties, oh perhaps not because of those awesome reunions, and you're ready for the big wide world. Make a stand. Make yourself the most important person at Schoolies week thanks to Schoolies Central. And because the accommodation and party venues are all approved, with your newfound responsibility, Schoolies week is sure to rock.
17 year olds don't miss out either, this Schoolies event is designed for all Schoolies – whether 17 or 18.
The surroundings
The beach at Avoca is perfect. It's perfect for beginner and seasoned swimmers alike. The surfing culture at Terrigal and Avoca is alive with enthusiastic and experienced surfers. There are parks and headlands and all sorts of places to relax in, explore and prepare for some serious partying at night.
Take a friend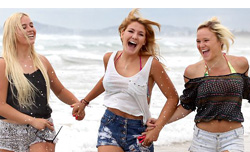 Take as many school friends as you like but the one real friend you seriously need is your travel consultant. Schoolies Central have been arranging packages for Schoolies at Terrigal for years. They know the town, the beaches, the accommodation and the social events. They know how to make Schoolies week epic.
All employees at Schoolies Central are Fully Accredited and Qualified.
Schoolies at Terrigal: Details and Packages now available